01.09.2011 First School Day Celebrated with Dancing
It is known that the students of the Governorate Ballet School College receive their Certificates of full secondary education in Kostroma general education school No 26 where they, as it has become a tradition, give their teachers and class mates a dancing present. This year the opening dance of the celebration was Italian flamboyant Tarantella performed by the 4th year students. They had started to rehearse two weeks before the autumn term began. The students had to train and get into shape after the longest holidays during the year. Aleksei Rubtsov, the leading teacher of folk stage dance, directed the rehearsals.
After the successful performance and the first lessons the school students went to the college. The new school year of 2011 – 2012 started with an opening ceremony, too. However the first year students had had to attend their main lesson of "introduction into the profession" given by Maria Veshkina, the College Director.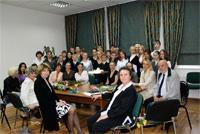 The students had prepared greeting and mural newspapers put as decorations and signs of welcome in the hall of the Governorate Ballet School.
The faculty made speeches to instruct the students before embarking on their challenging journey. Some of the teachers came to Kostroma from Moscow where the Ballet was having guest tours at that time. Elena Tsarenko, the President of Russian National Ballet Kostroma and the Founder of the Governorate Ballet School College, congratulated the students and the teachers on the beginning of the new school year and gave them a message from Yuri Tsarenko who is the Artistic Director of the Ballet and the College to the first and the fourth year students.
In such a solemn atmosphere there were some new teachers introduced: they were Natalia Nikolayevna Voskresenskaya, the classical, duet and stage dance teacher of the Governorate Ballet School and the Dance School for Children, Honoured Artist of Russia, and Nikolai Fedorovich Laktionov, the teacher of Acting Classes, the laureate of the USSR State Prize, Honoured Art Worker of the Russian Federation, Chevalier of the Order of Honour. The College administration had concluded long-termed contracts with these well known choreography teachers before the new school year started; this collaboration is the logical continuation of the creative work carried out from 2003 to 2007.
The ceremony ended with a tea party where a cake was served beautifully decorated with a pair of dancing shoes to remind the students of the amazing but difficult art of dance.