Founder of Governorate Ballet School (College) affiliated with the National Ballet "Kostroma".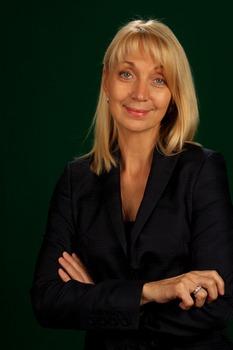 President of «The Russian National Ballet "Kostroma" Elena Tsarenko.
As a rule, creating a ballet school in a provincial town requires the necessary material input but also finding a team of professionals. Very often it happens so that the artistic line-up is the most vulnerable part of a large organization working in the sphere of spectacular art. Having one's own school can help to change this unsteady situation and give it momentum for further development.
Our human resources prospects became realistic after opening a dance studio for children affiliated with the National Ballet "Kostroma".
Why did we never stop at what had been accomplished? Why did we choose a difficult way when we could use young professionals who graduated from other colleges and universities? We have been asked these questions many times. Yes, in the beginning we used to do so - we went to large cities in Russia and near abroad countries, searched for talented people, offered them an outlook with fair promise. We believed in the future of our company and we infused with this hope other people who had made a decision to stay with "Kostroma". I think we were very lucky because the skeleton of our ballet company was made of top-notch dancers. Thanks to those enthusiasts "The Russian National Ballet "Kostroma" acquired its traditions and unique style. It was here that they built their careers, found their love, started their families and gave birth to little Kostromavites. However time sets its priorities and there are less educational institutions for folk choreography now and consequently it is increasingly difficult to find professional who are ready to devote their life to folk dancing. They prefer less interesting but better-paid jobs in the capital to making a long-term commitment in a provincial town.
We created our own world called the art of dance.
"The Governorate Ballet School" (College) affiliated with "The Russian National Ballet "Kostroma" has become a place to bring up real artists. It is a Dance School for Children consisting of four age groups and of course a real talent foundry providing its students with a degree, the Governorate Ballet School (College).
Every time we have new students we are amazed at how rich our Kostroma land is. The aim of our school is to bring the children's talents to the light. By reducing the admittance age limit to 4 – 5 years old we got a unique opportunity to take part in the process of creating and shaping of an artist at the earliest stage possible. To achieve this aim the teachers of our school are working on flexible methods of teaching which take into account the individuality of each child. I can't help mentioning that our children grow surrounded by love and beauty. We try to do our best for them. The school has a good library holding popular and rare editions. The educational and methodological base is well worked out. The pupils and students attend on a regular basis cultural events in Kostroma, Kostroma region and Moscow. They are taught by the best teachers in Russia and in the world. Even the historical building of the school evokes the sense of beauty.
There already exists the intergenerational continuity in "The Governorate Ballet School" which helps to preserve the unique style of "The Russian National Ballet "Kostroma". The students are brought up watching its performances and trying to adopt the experience of the older accomplished artists, they are also taught to listen to the graduates' competent opinion. Today the college can boast of two classes of graduates who joined the ballet company in 2007 and 2010. It can also be proud of its own unique style obtained as a result of its victories and well kept traditions.
Now "The Governorate Ballet School" is our history and our future.