06.12.2012 Kostroma students learn about the culture of the North people.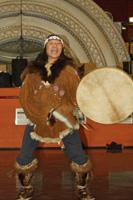 Ensemble "Chukotka", set up in 2000 in the city of Anadyr of the Chukotka Autonomous District, does not only revives and carefully preserves the original songs and dances of the native inhabitants of the Far North but also creates the new works, taking the traditional art as basis. Most of the dances of "Chukotka" have folklore roots.
"Kostroma" became familiar with the Company's work a few years ago. One of the last meetings took place in Beijing where the ballet "Kostroma" and the ensemble "Chukotka" represented Russia at the opening ceremony of the Year of Russian Tourism in China. It was a great opportunity for Elena and Yury Tsarenko to ask the artistic director of "Chukotka", Igor Kuzmin to carry out the master-classes for the dancers and the students.
In these days the invaluable experience of the traditional folklore bearers was passed on to the students of "The Governorate Ballet School". The study of the unfamiliar choreographic material of the Northern dances became an unprecedented case in the pedagogical practice of the college.
This task doesn't seem so easy for the dancers. They mastered the movements of Eskimo, Chukchee and Koryak dances, studied the plastic and sound imitative reincarnations of birds and animals, listened to the national songs performed by the soloist of the ensemble "Chukotka", Olga Kuzmina, who has a brilliant talent in the art of guttural singing, in playing the Jew's-harp and Northern instrument - Jarar.